Žabinec has a total of 5 apartments. Each has its own kitchen, bathroom and separate bedroom. We offer a clean and pleasant environment. We strive for high quality service to ensure that our guest is always satisfied.
Beds in the guest house Žabinec, it's like to sleep the royal bed.
We have high demands on healthy sleep. The basis is that each of our guests slept well. We do not want any compromises. That is why we have beds made to our specs from solid wood. Special box springs are 22 cm high. The bed is comfortable and hard enough at the same time to provide comfort and relaxation.
The beds for the Žabinec guest house were made to order by the Lucatec Group. The company offers beds made of solid wood, develops its own types of mattresses and bedding. The company follows the latest trends and research in the field of healthy sleep. It offers individual solutions to customer requirements and wishes. The owner of the company, Mr. Popek, is an expert who will guide you through the world of beds. If you want to choose quality at a good price, we recommend Lucatec Group and its excellent service. www.svetspanku.cz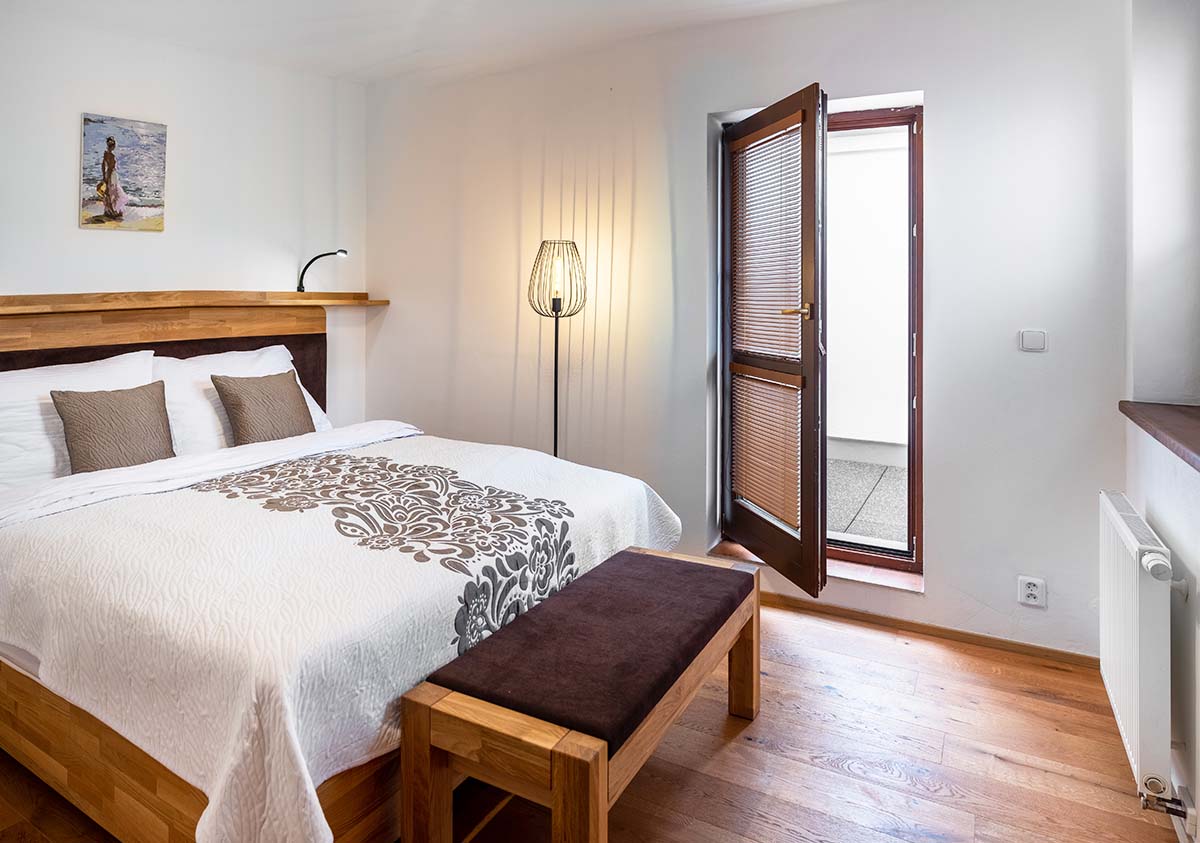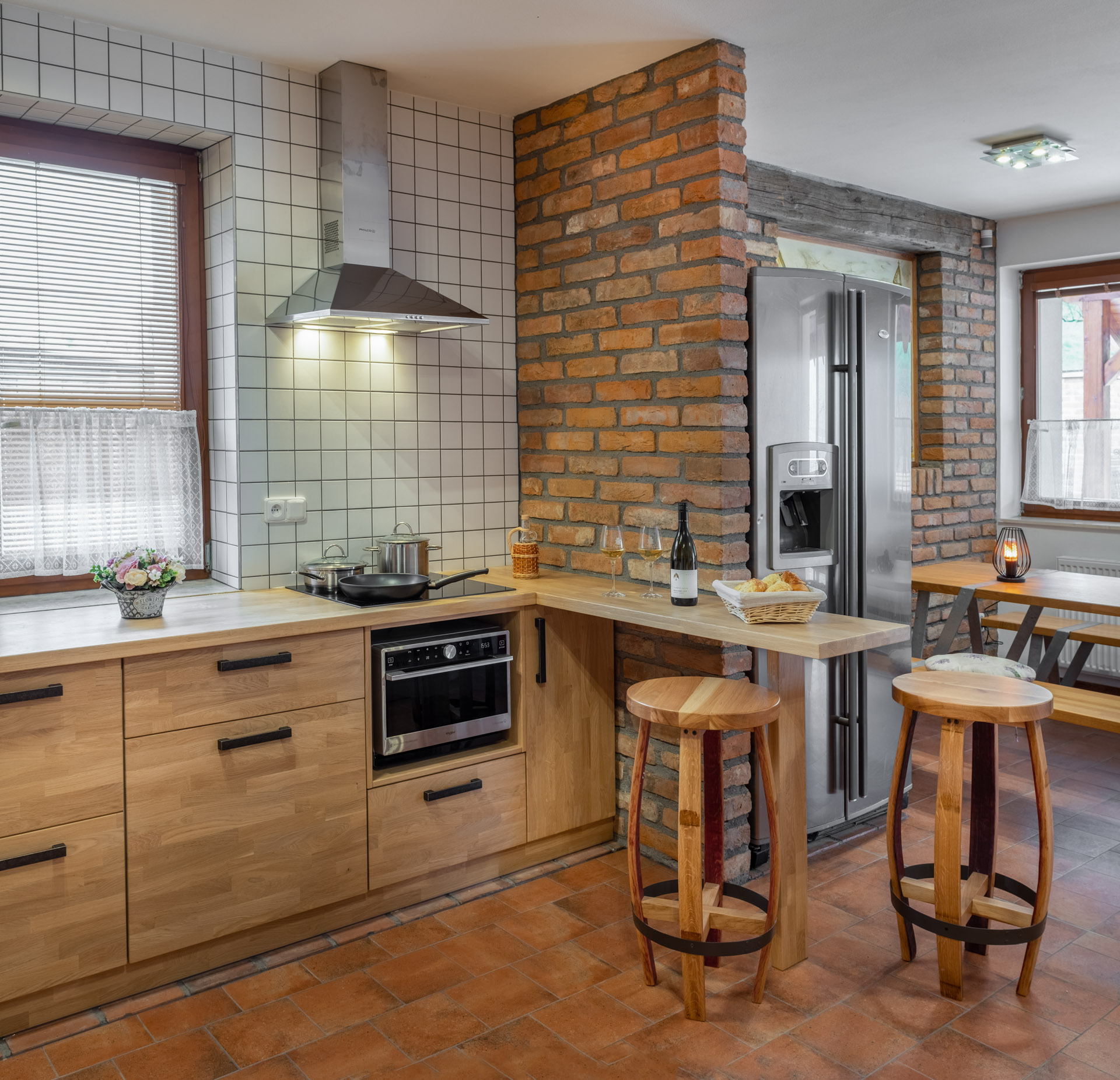 Easy check-in. Accommodating in Žabinec is so easy.
Our apartments are equipped with keyless entry. Before your arrival, we will send you a unique code that is used to enter your apartment. Arrival time is up to you. You can arrive whenever it suits you.
Guest house Žabinec, it is living with wine.
Each of our apartments is equipped with a wine fridge, which we refill for you every day. You can always have wine from Kurdějov available in your wine fridge.
Long-term rental for companies.
We offer long-term rental of apartments to employees and managers of companies that do business in our region. Our apartments are fully equipped, they have the layout of a regular apartment and at the same time have they basic office equipment, ideal for working from home. There is Wi-Fi, a printer and basic office furniture.
We love nature. We are responsible to it.
The operations of the Žabinec guest house is ecological and environmentally friendly. We save water, energy and have invested in green technologies:
We recycle wastewater in our house water treatment plant.
We capture rainwater and wastewater, which we reuse for flushing.
We use energy-saving LED lights.
Heating and hot water is based on heat pump technology.
We use energy from the sun. We have a system of photovoltaic pannels on our roofs.
We do not offer accommodation. We offer an enjoyment.
TV
DVB-T2 television
in each apartment
Kitchen
There is a fully equipped kitchen – microwave, kettle, refrigerator and more
Internet
Free internet connection via WiFi throughout the whole guesthouse
Bathrooms
Each apartment has its own bathroom with shower
Parking
Parking directly in the
courtyard of the guesthouse
Wine Shop
Directly in the guesthouse you can spend comfortable moments in our wine shop with a glass of delicious wine not only from local but also from foreign wineries.
Cyclo-friendly
Here you will find a bicycle shed and charging PowerBoxes for e-bikes*
EV charger
Here you can charge your electric cars on the OlifeEnergy charger**
No animals
We apologize to the pets, but in order to ensure the quality of the accommodation we do not allow to stay in our guesthouse with the animals
*PowerBox e-bikes with cables for battery systems:
1x Schimano "G" – Steps
1x Bosch
2x Universal "A" – XLR3M and "B" – Jack21
1x Specialized "R" Rosenberger
Charging cables on request at the reception for a deposit of CZK 1,000.
Price of charging the bike: 50 CZK, free of charge when consuming drinks in the wine shop. For guests of the pension free of charge.
**OlifeEnergy electric cars charging AC Wallbox
Connected to 32A, with an output of 2x 11 kW (22 kW) with a plug in the European CCS standard.
Triggering using RFID chips, which are available at the reception, always on a deposit of 1000 CZK.
Charging price 10 CZK / kWh.
For guests of the pension free of charge.